Hold Curser Over Button For Contents


















Made for your body..............Not his !
Custom designs and manufactured to fit your Size, Shape and Style
( custom made, not altered)

Engineered, designed and built by women, for women!

When asked at a recent trade show why these repeat customers continue to purchase their safety equipment from Lady Eagle Safetywear
their answer was
..................................................." because it fits! "
Lady Eagle Safetywear is built for a woman form and not just altered around it. You'll see and feel the comfortable difference, that this female driven product can deliver.
Offering the latest combination of materials, manufacturing techniques and options, these custom fit uniforms will not hinder your driving performance that can be caused by fitting problems from a male based and dominated race-wear industry. Because of our custom female size work-form, we can deliver your precise equipment needs to the manufacturing department of Lady Eagle, and build a uniform that fits great and looks terrific !
Let us build you the Lady Eagle Safetywear uniform you should be wearing.
Design & Measurement forms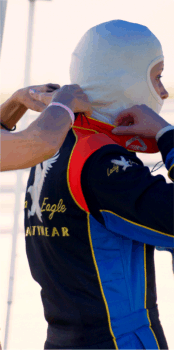 SFI 3.2A/5
With all the options available from the Design 500 custom uniform line, but with the female racer in mind. The Lady Eagle company offers sizing and comfort that has been unavailable, until now. Women have been forced to wear, not only driver's suits made to the male anatomy, but also the protective underwear. Lady Eagle Safetywear has changed that approach. Offering a measuring form that address the female build, it is now possible to get a driver's suit made that truly fits the wearer.
For extra comfort in the heat, build your uniform with the knit material (Red, White, Royal Blue, Yellow, Black) on the top half, with a Nomex® honeycomb inner layer, while using the woven Nomex® (more durable) material (lots of color choices) on the bottom half. For even more comfort, chose Carbon-X as the inner layer material to your new uniform.
If your driving needs require a touch more safety, we can add extra layers of material to your suit (3 or 4 layers total), or on the bottom half only (sprint cars)!
See the female form on the measurement / design page and go racing with a style that fits.
The Lady Eagle logo exclaims it's right!
Custom colors (inquire about your needs)
Nomex® in knit, woven or sateen
Embroidery on outer panels before the uniform is built
Box or vertical quilting
Nomex® stretch panels - shoulders 180 standard (optional 270 or 360)
Nomex® stretch panel - lower back (not needed with knit material)
Boot legs with inset Nomex® cuff (ours won't pull out)
Boot Hoof, insulated Nomex® top-cover for your driving shoes
"D" rings on a Kevlar strap, sewn into uniform arm, with a pair of arm restraint straps
Epaulet, standard straight, 3-point, HANS style or vintage look (none)
Colored cuffs, (black, red, royal blue)
Knit collar, soft knit Nomex®
Extra layer of material on bottom half of suit
Padded knees, elbows - inside or outside
Piping on collar, belt, epaulets
2 or 3 layers
All materials are FR
Carbon-X material as a replacement of the Nomex® inner material
SFI Rated

Lady Eagle base suits
Design 4 - Woven Nomex
Design 5 - Sateen Nomex (Shiny finish)
Design 5 Plus - Cool Comfort with Knit Inserts (Sleeves, Torso, Legs)
Design 6 - Multi-layer Composite (super lightweight suit)
Design 7 - Spun Knit Nomex ( SFI 3-2A/5 to 3-2A/20)
Lady Eagle Uniform Sizing Chart
Lady Eagle Racing Uniform base pricing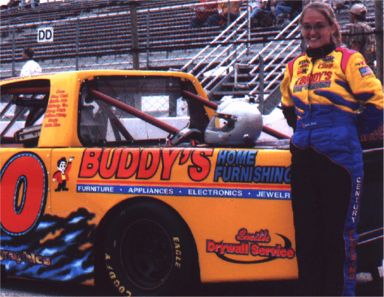 Lady Eagle Safety Underwear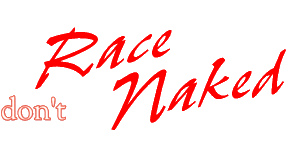 DANGER! Heat transfer and low melting temperatures of standard women undergarments can cause injury in a fire, thus making them a safety hazard.
Supportive and protective undergarments made of Carbon-X , FR and/or Nomex, are all part of the Lady Eagle line, enabling a woman to have protection from fire and support while engaged in racing, stunt work or hazardous environment services.
Lady Eagle Safetywear makes truly comfortable and fire resistant safetywear, for you!




Carbon-X material available from Lady Eagle Safetywear