Hold Curser Over Button For Contents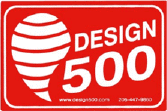 Design 500 custom designs and manufactures Uniforms
to fit your Size and Style
( not just altered )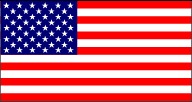 Made in the US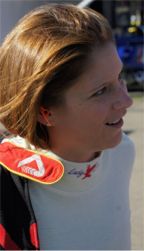 Design 500 Custom Nomex® Driver's Suits
SFI 3.2A/5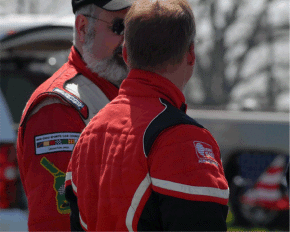 Are you ready for a feature race uniform, utilizing the best materials, made to fit and embroidered to your exacting specifications, then Design 500 is the one to wear! This diminutive company has produced uniforms for some of the biggest names in racing, because they provide a detailed service with options that others won't. With an embroidery service and commitment to style, along with a pride of their workmanship, Design 500 is the winners choice.




Made to measure sizing with the following available options;
Custom colors (inquire about your needs)
Nomex® in knit, woven, sateen
In house embroidery
Box or vertical quilting
Nomex® stretch panels - shoulders (180, 270 or 360)
Nomex® stretch panel - lower back (not needed with knit material)
Boot legs with inset Nomex® cuff (ours won't pull out)
"D" rings on a Kevlar strap, sewn into uniform arm, with a pair of arm restraint straps
Boot Hoof, insulated Nomex® top-cover for your driving shoes
Standard straight, 3-point, HR Pro or vintage ( no) Epaulets
Colored cuffs, (black, red, royal blue)
Knit collar, soft knit Nomex®
Extra layer of Nomex® or Carbon-X on bottom half of suit
Padded knees, elbows - inside or outside
Piping on collar, belt, epaulets, banner
2 or 3 layers
Carbon-X material as a replacement of the Nomex® inner material
SFI rated
Design 500 base suits
Design 4 - Woven Nomex
Design 5 - Sateen Nomex (Shiny finish)
Design 5 Plus - Cool Comfort with Knit Inserts (Sleeves, Torso, Legs)
Design 6 - Multi-layer Composite (super lightweight suit)
Design 7 - Spun Knit Nomex ( SFI 3-2A/5 to 3-2A/20)
Base pricing for Design 500 racing uniforms *price*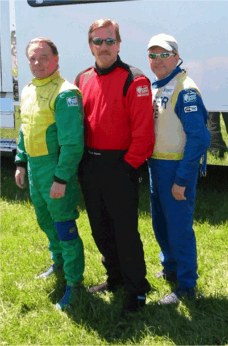 SFI-15 and SFI-20 suits also available
For a safer and more supple feel, Design 500's in house embroidery is applied BEFORE your suit reaches final assembly. Go to measure and design charts.
WHAT TO ASK WHEN PURCHASING A NEW SUIT:

1) Are your suits SFI certified? What does that mean?

a) When determining what kind of garment we are going to manufacture, how many layers, etc., a fabric swatch or combinations of fabric swatches are sent to the SFI Laboratory to be tested for it's thermal protection capability (fire-retardant). When finished, the garment should have a label sewn to

it that states it meets the SFI requirements.

2) Do you do alterations? Can you repair my suit if I get a tear in it? If I change sponsors, can you change the panels?


a) The agreement with the SFI Laboratory is that the only one that can work on a finished garment is the manufacturer of the garment. This is so that the garment is not compromised by the use of fabrics or notions that are not certified fire-retardant. A good driver's suit could last from 5 to 10 years or more, if it's taken good care and repaired as quickly as possible, if needed.

If you have a question regarding driver's suits, please ask.
Build your Design 500
Go to measure and design charts.