[ Products ] [ Services ] [ Hours&Location ] [ Contact Us ] [ Search ] [ Links ]
Master Cylinders, etc.
All of the following master cylinders, suitable for brake or clutch operations, are constructed from lightweight aluminum alloys, and have 2.25" bolt centers for affixing to your vehicle.


Due to their rugged design, Girling master cylinders are used in many forms of motorsports, including road racing, off-road and oval track applications. Don't be fooled by cheap look-alike imitations, these are the real thing.
Both models are available in the following bore sizes (marked on casting), 5/8" (.625"), 17.8mm (.70") and 3/4" (.75") which will suit most applications. Order by bore size and either (left photo/drawing) remote or integral reservoir.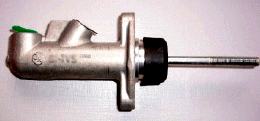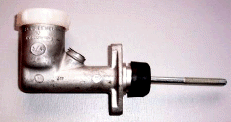 Girling Reservoir, extension part # 2F1274
Girling Kits
Although we are not a big fan of "rebuilding" brake master cylinders on a race vehicle, we have received inquires for such items.
Therefore below, are the part numbers for those seal kits
Girling 5/8" Bore kit part# 2E0789
Girling .70" Bore kit part# 2E0788
Girling 3/4" Bore kit part# 2E0787
Caliper bleeder screws Look to Earl's Solo-Bleed for a better way of doing this necessary job!

AP Racing
Just two of the popular AP series of master cylinders
CP2623 This master cylinder has become the most popular of the AP master cylinders available. It is suitable for brake and clutch applications, especially where space is restricted.
1.0" stroke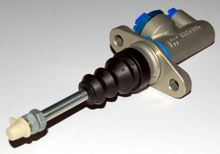 CP2623 File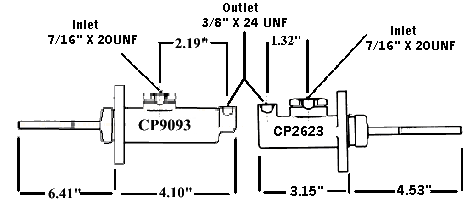 CP6093 For most bore sizes, the longer available stroke versus the CP2623, makes it particularly suitable for some clutch installations.
Two of the most popular series of AP Racing light-weight master cylinders. Both are supplied with a long threaded portion push rod to allow it to be cut to length to suit.
IMPORTANT.. All AP Racing master cylinders are individually shimmed during assembly to minimize free play, therefore push rods should not be changed between individual master cylinders.
AP Racing has an easy way of identifying the bore sizes of their master cylinders. When manufactured, each master cylinder has a color coded tie, wrapped around the body of the cylinder which enables a quick visual identification to be made.
Tie Wrap
Color
Bore Size
*Black/Orange
14.0mm (0.551")
*Black/Red
15.0mm (0.590")
Black
15.9mm (5/8")
Blue
17.8mm (0.70")
Green
19.1mm (3/4")
Orange
20.6mm (13/16")
Red
22.2mm (7/8")
White
23.8mm (15/16")
Yellow
25.4mm (1.0")
* not available in CP6093)

AP master cylinder re-seal kits, early style.
(CP2623, CP4623, CP5623, CP6093)
AP 5/8" bore, 2E2902
AP .70" bore, 2E2903
AP 3/4" bore, 2E2904
AP 13/16" bore, 2E0691
AP 7/8" bore, 2E2402
call for other styles/sizes
Master Cylinder Reservoirs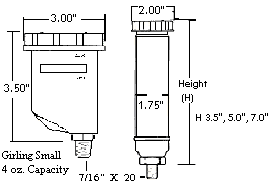 Both of these plastic fluid reservoirs may be screwed directly to the master cylinders, listed above. The AP Racing unit (part number 4709-) is available in three different heights (3.5", 5.0", 7.0") and thus volumes. When attached directly to the master cylinder, these reservoirs do not have the leakage problems of those other so called, "racing" parts with their flimsy wire clips or snap rings for attachment.
AP Reservoir #4709- series
7/16"X20 UNF thread
3.5" H part# 2F0518
5.0" H part# 2F0186
7.0" H part# 2F1071
15/16" X 20 UNS thread - Direct Fit
3.5" H part# 2F1242
5.0" H part# 2F0747
7.0" H part# 2F1234
AP 2 Outlet Type Reservoir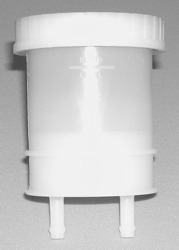 A large capacity plastic reservoir with two outlets
Volume 9.46 fl/oz - 280cm3
Accepts 5/16" diameter hose
Supplied with bellows
See PDF File for mounting
Don't forget the High Temperature Racing Brake Fluid!
Earl's Solo-Bleed bleeder screws are the best replacement for your standard caliper bleeders.
Check out the other page from here! Solo-Bleed.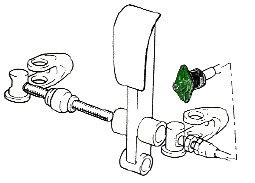 These Racetech balance bar and adjuster assemblies with alloy clevis and (supplied) steel cross tube, are ready to weld into a pedal to suit 3" or 2.5" centers between master cylinders.
High quality 55 ton steel is used for the balance bar.
2.5" part # 2U1452
3.0" part # 2U1245
Lightweight adjuster (green knob) with a positive half-turn stop, supplied complete with a fixing kit. Standard length is the most common of sizes, 3 foot 6 inch. Other lengths available upon special request.
3'6" adjuster assembly part# 2U1616
Brake Pressure Switch
The easiest way to actuate brake lights.
Replace a current Banjo Bolt in your current brake system and wire to your indicators.
3/8"X24 thread banjo bolt brake pressure switch. # 2U2719